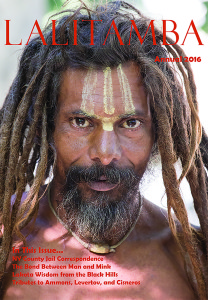 LALITAMBA is a journal of international writings for liberation. The journal was inspired by a pilgrimage through India. The name means Divine Mother.
LALITAMBA 2016 features NY County Jail Correspondence • The Bond Between Man and Mink • Lakota Wisdom from the Black Hills • Tributes to A.R. Ammons, Denise Levertov, and Sandra Cisneros
Contributors include Joel Allegretti, Guy R. Beining, Lisa Bellamy, Richard Alan Bunch, Michael Cadmus, Richard Campbell, Ruth Ann Dandrea, Gloria Dyc, Laura Eklund, Allen Forrest, Kathy French, Larry E. Graham, R.F. Grant, Kathleen Gunton, Jim Hart, Kelly Jadon, Thomas Penn Johnson, Sameer Joshi, Marilyn Joy, Sarah Katharina Kayß, Eleanor Kedney, Ray Keifetz, Robert Kostuck, Simm Landres, W.F. Lantry, Lyn Lifshin, John McCarthy, Elizabeth Moller, B.Z. Niditch, Ayaz Daryl Nielsen, Ed O'Casey, Haya Pomrenze, Elisavietta Ritchie, Matt Schumacher, David Swallow, Jr., Linda Swanberg, Z.G. Tomaszewski, William Varner, and Brian Phillip Whalen.
LALITAMBA is a 501(c)3 nonprofit and is published by CHINTAMANI BOOKS. The journal is donated through our library outreach to prisons, shelters, and hospital psychiatry/addiction recovery wards throughout the United States. The journal also partners with LALITAMBA SARANAM, a holistic women's shelter in New York City. 
Our professional staff is all-volunteer. 100% of magazine "profits" are used to support the library outreach project. This means that your purchase supports book donations to prison inmates. Gifts are tax-deductible. Thank you!