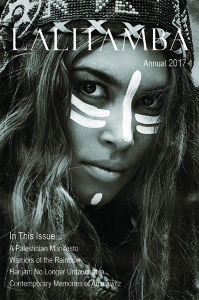 LALITAMBA is a journal of international writings for liberation. The journal was inspired by a pilgrimage through India. The name means Divine Mother.
LALITAMBA 2016 features A Palestinian Manifesto • Warriors of the Rainbow • Harijan: No Longer Untouchable • Contemporary Memories of Auschwitz
Contributors include Janelle Adsit, Bruce Elliot Alford,
Mark Ali, Devon Balwit, Chrystal Berche, Edward Bruce
Bynum, Frank Cavano, Brenton H. Dickson, Sarah Estes,
Eyes of Fire, Patricia Farewell, Allen Forrest, Mark D. Hart, Doug Hile, Hugh Hothem, Alexis Ivy, T.R. Jones, Laurie King-Billman, Hannah Kittle, Candace Lyons, Irfan Merchant, Ivan de Monbrison, Ayaz Daryl Nielsen, Gunilla Norris, Naomi Shihab Nye, Korkut Onaran, Marilyn Pearce, Jennifer Raha, Joseph Rathgeber, Michael Salcman, Melvin Sterne, Julie Marie Wade, Katherine West, Max West, Mark Wyatt, and Zolotarev.
Those who demonstrate love, wisdom and courage and those who show that they can and do work for the good of all, would be chosen as the leaders…The day will come. It is not far away.
—Eyes of Fire
LALITAMBA is a 501(c)3 nonprofit and is published by CHINTAMANI BOOKS. The journal is donated through our library outreach to prisons, shelters, and hospital psychiatry/addiction recovery wards throughout the United States. The journal also partners with LALITAMBA SARANAM, a holistic women's shelter in New York City. 
Our professional staff is all-volunteer. 100% of magazine "profits" are used to support the library outreach project. This means that your purchase supports book donations to prison inmates. Gifts are tax-deductible. Thank you!